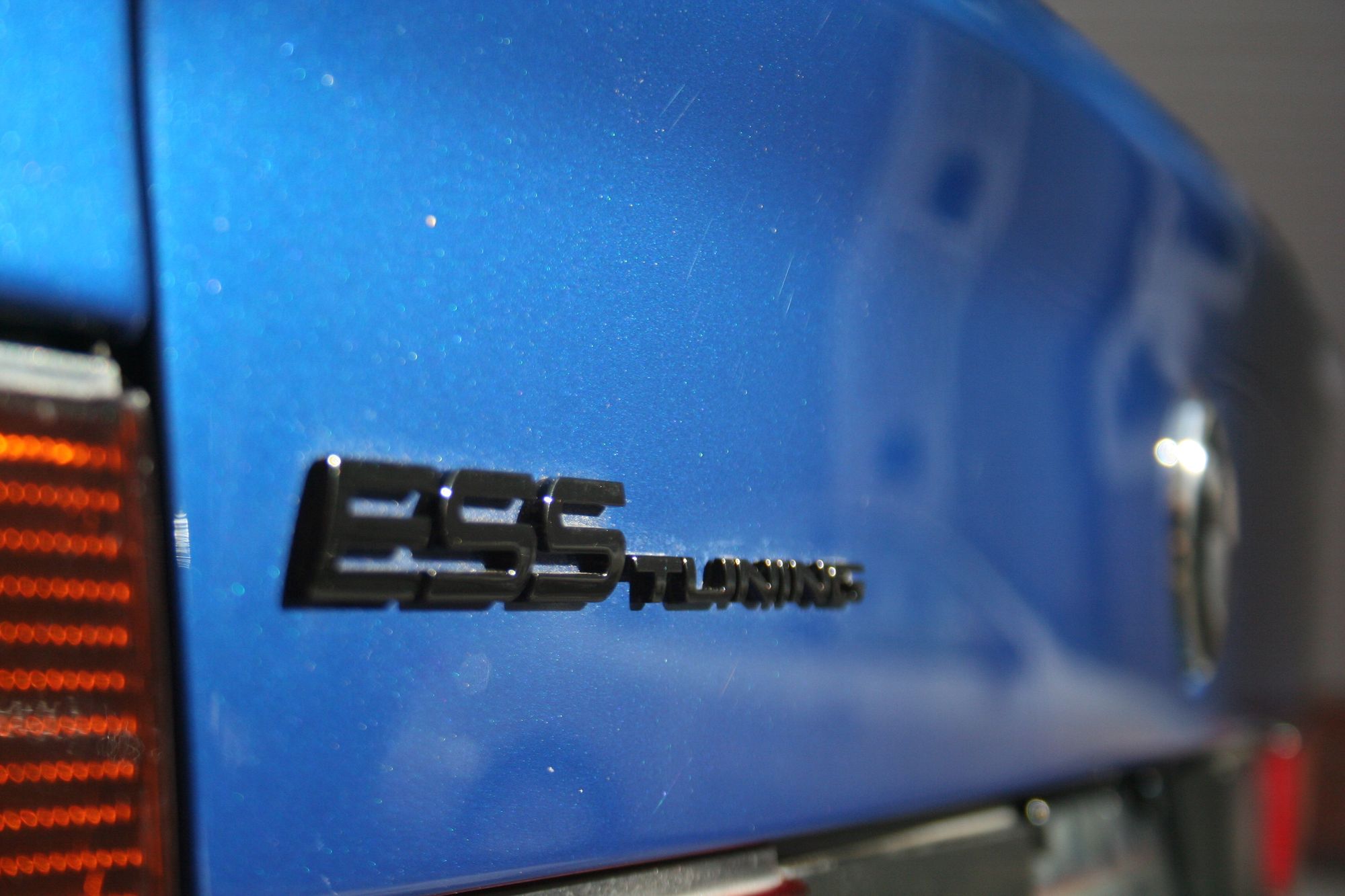 Hi,
I'm Aleksey Korzun, from Brooklyn, NY and I can't wait to put historical plates on my car. This website is a by-product of me wanting to publicly document things I learned during the build process and exploring running a self-hosted Docker version of the Ghost online publishing platform.
I spend my early childhood in Minsk, Belarus, and this model of BMW became available to the general public when I was around nine years old. As you can image, the car instantly became the status symbol in that economy.
Fast forward to an 18-year-old version of me with a brand new driving license, browsing automotive classifies and stumbling on a gorgeous jet black E34 540I. I had to get it, no questions asked.
It's a fantastic feeling to buy a car and get to drive it anywhere – anytime you want. I was always interested in breaking and building stuff, so the car quickly became a drivable version of the Lego Technic kit.
Since the budget was tight at the time, I went thought your typical sticker, blackout, and questionable modification phase. The car looked hilariously bad at times, but it was a canvas, and learning is part of the creative process.
Tinkering with the car helped me understand a lot of different professional disciplines that are essential for constructing a vehicle. I got to play automotive technician, electrician, painter, and ended-up building good life long friendships.
Build specifications
Supercharger
Vortech V3Si - 466 HP @ 10 PSI
VF Engineering intake piping with K&N cone filter
AEM digital wideband UEGO AFR gauge
Auto Meter 2204 mounting cup
Auto Meter 2614 Z-Series boost/vacuum gauge
Auto Meter 2204 mounting cup
Mishimoto oil catch can
Bosch blow-off valve
Cooling
Spal 30102049 16" curved electrical fan
Derale 16795 PWM adjustable fan controller
Derale 16750 temperature probe
Auto Meter 2282 radiator hose adapter
Blue Sea Systems MAXI fuse block
Drivetrain
Factory replacement Alusil M60B40 block
Getrag 420G 6-speed manual transmission
Z4 short shifter
M-Sport 3.15 limited-slip differential
Polyurethane engine and transmission mounts
Stainless steel Billy Boat dual exhaust system
Suspension
BBS Concave 18x8.5 ET 18 RA 520
E34 M5 sway bars, brakes, and rotors
Stainless steel brake and clutch lines
Ground Control coil overs
Strong-Strut strut bar
Interior
Sparco 015TSDLN Strada steering wheel
Sparco SPRINT 2019 seats
Sparco seat side mounts
VAC-Motorsports floor plates
Sparco 3-point harness
Custom AVUS E34 clock from Bavarian Restoration
M-Sport 6-speed cluster
M-Sport shifter sourround, boot, and knob
M-Sport floor mats
M-Sport door sills
Upgraded interior lights to LED
Body
M-Sport mirrors
M-Tech side skirts and rear bumper
M5 front fenders with side marker delete
M5 front bumper with brake vents
M5 bumper trim
M5 front and rear license plate filler
Finishing touches
The final color choice was between AVUS and Daytona Violet. I went with AVUS and pretty happy with it. The body shop swapped all the rusted panels with rust-free replacements, did all the bodywork, primed, painted, and shot clear.
The restoration took almost half a year. I ended up acquiring the supercharger kit, ground control coil-overs, and a couple of other goodies getting the car back.
The car was finally picked it up a month or two before Christmas in 2015 and was towed it straight to Motorcepts. We attacked the car for a couple of hours, and I got to drive a mint, supercharged 540i/6 back home.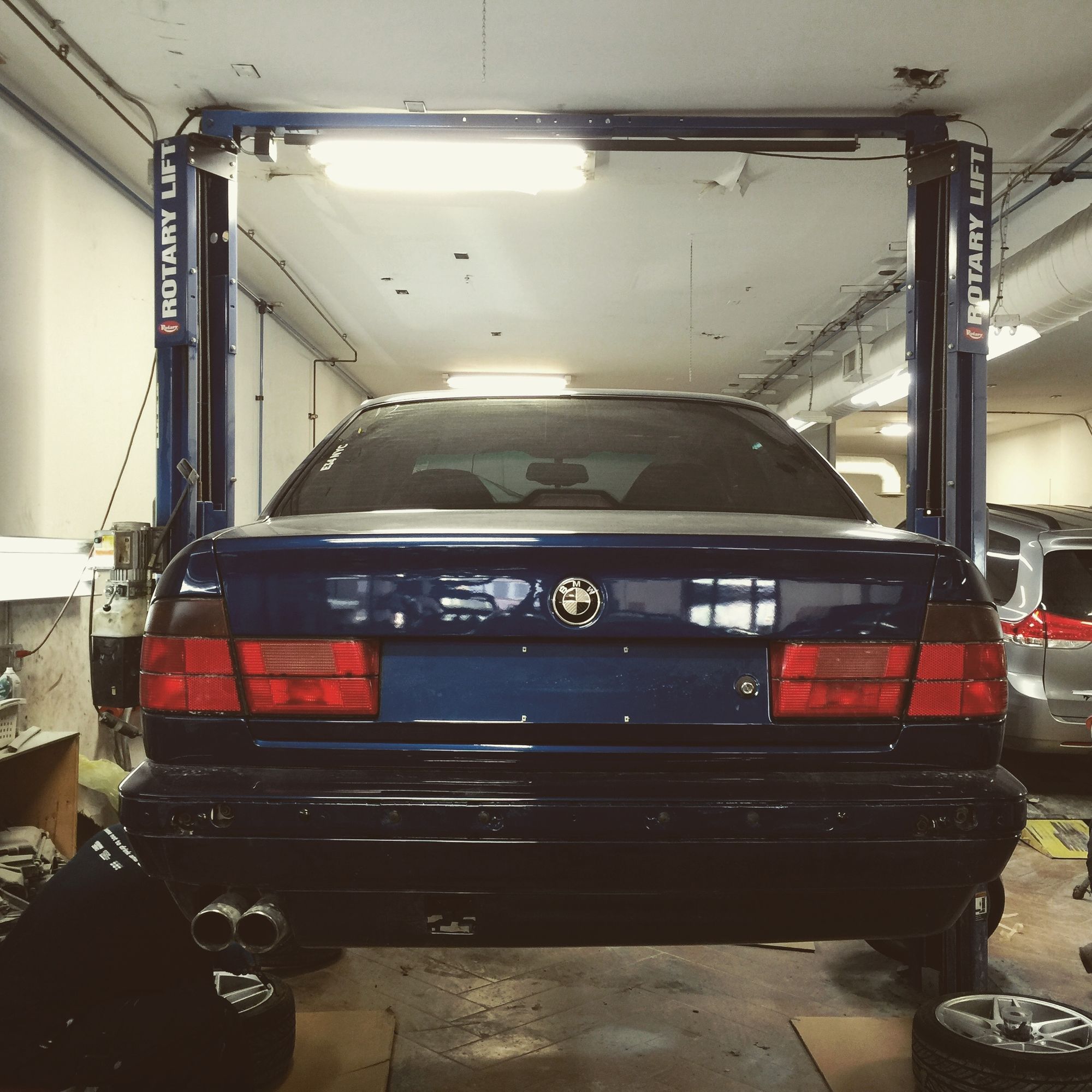 Teenage years
The satin vinyl wrap was the creative part of the project that helped me explore the bodywork aspect of the car. I learned how to swap and align the hood, fenders, four doors, trunk, and sunroof. I also played around with rust proofing and bodywork while preparing panels for the vinyl wrap.
I parked the car on the street and prepped the donor panels for a direct swap in a 1-bedroom apartment in Brooklyn. Jalopnik and Wheels @ New York Times covered the process.
In my defense, originally this was going to be a long weekend type of project, and  I didn't realize that matte black vinyl amplifies the surface imperfections. Then I ran into rust spots, had to swap electrical harness, window regulators, and locks.
The car looked pretty cool at night, but I was never happy with the final result because there were too many imperfections, and I kept picturing the mismatched body panels that were under the wrap.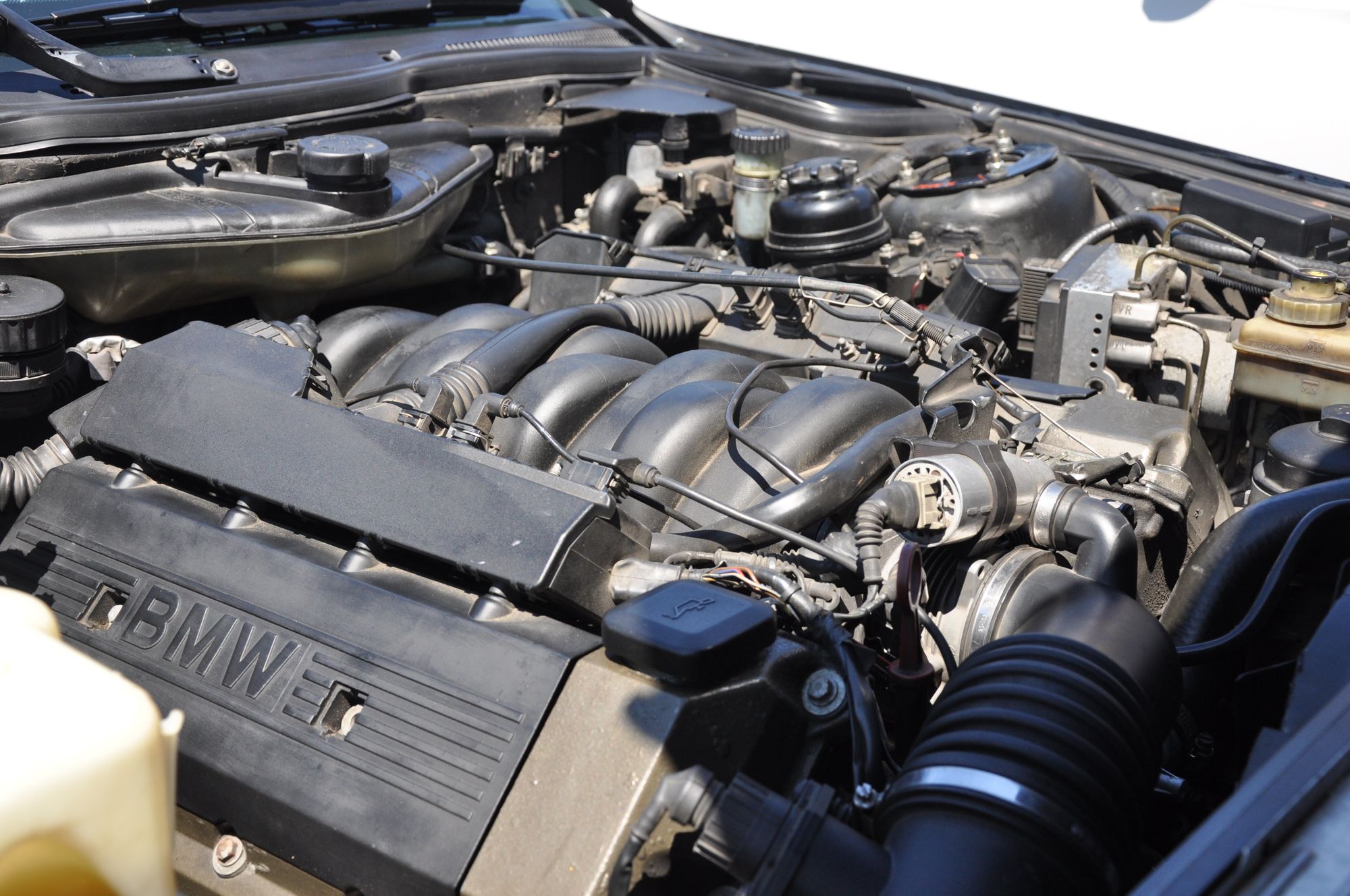 History of BMW E34 540i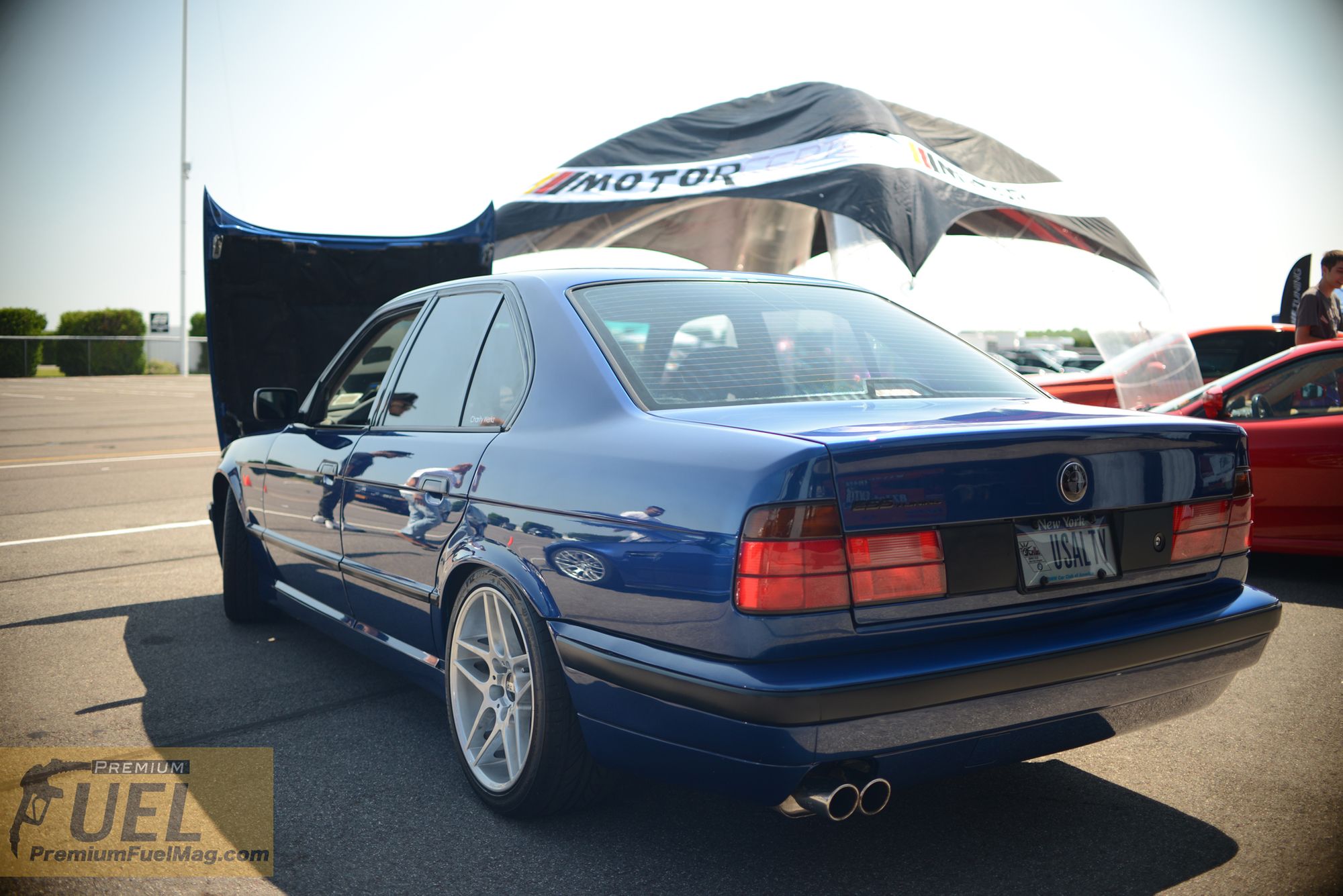 The BMW E34 is the third generation of the BMW 5 Series, which was sold from January 1988 to 1996.
In 1993 BMW added a 4.0-liter V8 to the 5 Series lineup. It was available in both sedan and touring models (the latter not in the US). Its large, torquey engine, upgraded brakes, and 5-speed automatic or rare optional 6-speed transmission made it very competitive in the sports sedan market. Only 3203 examples of the 540i 6spd were produced.
A rare 540i M-Sport model was built in 1995. This package included not only a firmer suspension and sport seats but also used many parts from the M5, save for the engine and transmission. Only 205 "M-Sport" models were built, and just 139 of them with a 6-speed manual.
Canada also got a special version — the M540i — which was similar to the American 540i Sport but had even more M5 parts, such as 345 mm floating front rotors, 18-inch M-Parallel wheels, and various trim pieces.
Only 32 of these cars were built – all with a manual transmission.
Australia was last to receive 70 individually numbered
"540i Manual Limited Editions" cars that came with full M5 interior and the M-System II wheels but did not have the Motorsport S38 engine or the M-tech exterior kit.